HOME > Stock Services >
Quality Assurance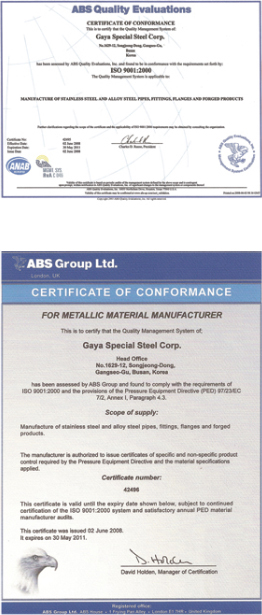 All activities Gaya Special steel is employing to perform your specific order are strictly controlled in accordance with our quality stystem ISO 9001:2001, and clients' specific requirements. Experienced personnel quipped with high yield devices can check your requirements in proper manner.
PMI is a prerequisite test at all times before/on dispatch the good, each piece 100% irrespective of whether required or not...
Our quality stystems suffice also European petrochemical equipment requirements PDE. In-house laboratory can perform to identify each grade, hardness & strength tests.
All our partners, machinery shops, forgers, fittings fabriator are listed only among the esteemed local manufacturers, who are well qualified by a renounced worldwide inspection parties.
Our quality concerned personnel are well experienced that delvery is very important, and price comes always in front other than else.. it is true that a shortlisted product with quich dispatch is nothing but a garbage stuck withou GUARANTEED QUALITY.